Meet Sonia Anthoine, a recent Bachelor of Science graduate in Civil Engineering with a minor in Sustainability in the Built Environment from the University of California (UC), Davis.
Sonia was born and raised in Chico, California, and came straight to UC Davis for her Bachelor of Science program after graduating from high school. She recalls having many fantastic teachers throughout the school but mentioned that she was particularly grateful to her fifth-grade teacher Mrs. Carroll and her high school calculus teacher Mr. Sours who each fostered in her a love of learning and curiosity of the world both socially and scientifically, and were instrumental in giving her the curiosity and skills he needed to pursue and succeed in higher education.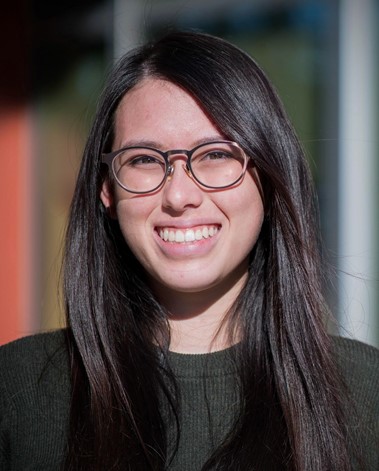 Sonia's research interests lie in the nexus between transportation and environmental engineering, particularly in implementing sustainable and equitable transportation solutions. "It wasn't until I came to Davis that I truly became interested in transportation as a field of study. Coming here opened my eyes to a world of active and sustainable transportation, the likes of which I had never seen in the United States before," she shared. "Most destinations at Davis are accessible by bike or bus and early on it made me question why this wasn't the case 90 miles away from where I was from or anywhere else for that matter. Transportation is a field rich in history, science, and debate of all kinds and there is always something to improve on the horizon. On a personal level, I know how transportation has impacted my access to opportunities, and want to do everything in my power to enhance the limits of transportation in people's lives."
Similar to many students, Sonia found the past year to be difficult due to the COVID pandemic. However, she notes that each and every year of her studies at UC Davis, especially within the Civil and Environmental Engineering Department, have been rewarding and invaluable to her academic, professional and personal development. After positions as assistant children's librarian, website designer, and sales associate at a flower shop, Sonia was thrilled to become a student assistant at the National Center for Sustainable Transportation (NCST) at the beginning of her sophomore year. In this role, Sonia was exposed to cutting-edge transportation research as a content creator and editor for the center. This work then leads to opportunities to contribute directly to research conducted by the Institute of Transportation Studies at UC Davis where Sonia had the opportunity to work on varied projects pertaining to road safety, travel behavior, and benefit-cost analysis. Since early 2021, Sonia has interned at Fehr & Peers located in Sacramento, California.
Sonia is the recipient of the Women's Transportation Seminar (WTS) Sharon D. Banks Undergraduate Leadership Scholarship (January 2021), WTS Bimla G. Rhinehart Undergraduate Leadership Scholarship (January 2020), California Transportation Foundation Board Scholarship (December 2019), and NCST Undergraduate Research Summer Fellow (June to September 2019). She advises the incoming students to find fascinating and useful classes outside the program of study. She also advises students to never miss office hours!
After graduating, Sonia will be working as a transportation engineer/planner at a transportation consulting firm in Sacramento, California. Her long-term goal is to better the lives of Californians by facilitating the adoption of safe, sustainable, and affordable transportation options, especially through the expansion of public transit and active travel. Coming into the transportation field as a mixed-race, low-income, and queer person, Sonia has personally experienced the challenges and successes of navigating the world and hopes to create the most equitable outcomes possible in the communities she will serve in the future. Sonia feels that the transportation decisions we make today will have a significant downstream impact on how our communities recover from the pandemic, police violence, and environmental justice issues.
Sonia thanks three people in particular for making her time at UC Davis productive and valuable - her professor and club-faculty advisor, Dr. Colleen Bronner, Associate Professor of Teaching & Vice-chair, Department of Civil & Environmental Engineering at UC Davis; her research advisor and mentor, Dr. Dillon Fitch, Co-Director, BicyclingPlus Research Collaborative & Researcher, UC Davis Institute of Transportation Studies; and her transportation and organizational research inspiration Lauren Iacobucci, Senior Program Manager, NCST.
"Sonia has a beyond excellent work ethic," says Dr. Dillon Fitch, her research advisor. "She is incredibly organized and thoughtful. She conducts her work with creativity and is constantly challenging the way I think about and conduct research. She's worked on numerous projects with me such as State Zero Traffic Fatalities Task Force, travel behavior of Jump bike-share users, and a project for Caltrans to build a Benefit-Cost tool for the Active Transportation Program. I admire her passion for transportation, intelligence, and leadership skills. All of these make Sonia likely to have a far-reaching and long-lasting impact on the field of transportation."
Sonia's work in NCST can be found here: Presentation and Report.
Sonia's research with Dr. Dillon Fitch in 2019: "Research Synthesis for the California Zero Traffic Fatalities Task Force" can be found here.
About the Author:
Dr. Nikitha Kolapalli is a health economist/clinical pharmacist pursuing her master's in Healthcare Decision Analysis from the USC School of Pharmacy. She works as a staff writer and editor for the METRANS student team. She is deeply passionate about maximizing accessible, equitable, and affordable healthcare.