Over the past year, the METRANS K-12 Futures in Transportation (FIT) Program provided participating students from the USC Hybrid High School with various enrichment opportunities. One such program was a pair of THRIVE workshops which gave the high schoolers a chance to engage with their classmates at a deeper level.
THRIVE is a collaboration between USC's undergraduate student government, Campus Wellbeing and Education (CWE), and the Mrs. T.H. Chan Division of Occupational Science and Occupational Therapy (OT). THRIVE courses, which are offered for credit within USC's OT department, are designed to foster deeper connections between students and cultivate perspectives on self, identity, and community through guest speakers and discussion sessions.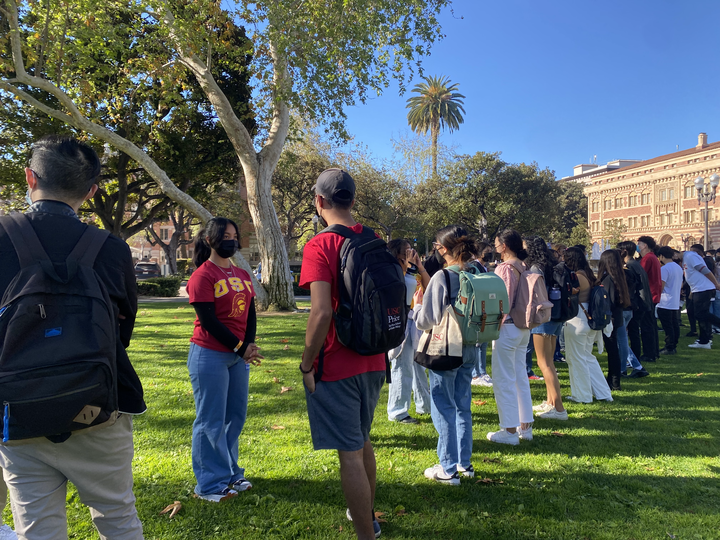 METRANS K12 Event at USC
"Occupational therapy is the academic home for THRIVE because we are experts at translating theory into action; we are the behaviorists of the world," said Ashley Uyeshiro, a faculty member in the Chan Division of Occupational Science and Therapy and course coordinator for THRIVE.
"Occupational therapists help people engage in activities that occupy their time and provide meaning to their life. We help people get back to these meaningful activities that they need or want to do," she added.
When organizing this year's FIT program, METRANS approached Uyeshiro to see if the Hybrid High student would be able to observe a THRIVE class. Since college-level THRIVE discussion sessions are not open to outside observation, Uyeshiro suggested hosting tailored THRIVE workshops for the high school students instead. Uyeshiro and her staff ended up doing this twice over the program's duration.
Uyeshiro noted that working with high school students posed a different set of challenges from college students, particularly stemming from differences at a developmental level. "Peer approval weighs more heavily in those teenage years," said Uyeshiro, emphasizing how high-school aged students tend to form their identity through their peer group.
"We challenged them quite a bit," she added. "We would ask them questions about their own identities, beliefs, or the way they think about things."
To get the students to open up, Uyeshiro shared that the workshop coordinators would begin the sessions with icebreaker games to get the students engaged before moving on to deeper discussion topics. While she noted that the activities did not elicit the same level of response for all students, many were still willing to participate.
"Most of the students took us up on our challenge," she said. "Some, you could tell, were holding back because they had never talked to their peers in this way, and that's okay. Not everyone is ready at the same time."
METRANS K12 Event at USC
Uyeshiro added that these exercises can be challenging for age groups beyond high school as well. "When we do workshops for college students, parents, or employees, everybody says the same thing. It's like, 'I don't really have spaces to talk about these deeper, meaningful things.'"
This shared need for connection across age groups ranging from high school to retired veterans is what inspires Uyeshiro, who received her Masters and Doctorate degrees in OT from USC, to continue leading the THRIVE program while tailoring interventions to the needs of each age group.
"Well-being applies to everybody, and the concepts of well-being that we are teaching our college students are much larger than just college, but we cater that information based on whatever population we are working with," she said.
About the author:
Jacob Wong is a first-year graduate student pursuing a Master of Public Policy degree at the Price School of Public Policy. He is curious about issues in urban policy and transportation planning. He is a recent LA transplant, and in his free time he enjoys exploring the area and the local food scene.