On Wednesday, November 14th, METRANS welcomed Professor Donald Shoup to the USC Price School of Public Policy to host the final METRANS Transportation Research Seminar of the term, titled Parking and The City. Even before the seminar, the lecture hall was standing room only, and full of excitement and buzz as people waited for the rock star of parking. "I regularly attend lectures held by METRANS. While all have been useful, there were a record number of attendees at this one!" shared Zhenlu Huang, USC Master of Science, Transportation Engineering student. "In my opinion, parking problems are so related to our lives and many people are concerned… which is why this event attracted so many people."
Professor Shoup began the seminar by demonstrating that you need nothing more than a quick look at Google Maps to realize that parking has truly eaten American urban landscape. He estimated that there are approximately 2 billion parking spaces for 200 million cars that exist in this country. This roughly translates to about 1,300 square feet of parking space per car. Specifically, in the case of Los Angeles, it is estimated that parking covers approximately 14% of all the land area.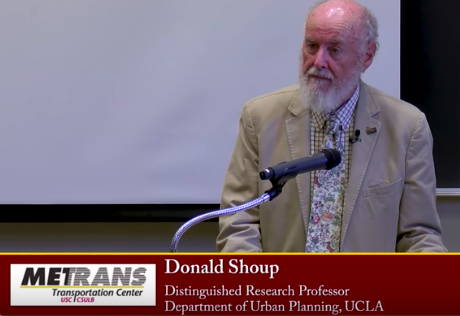 Professor Shoup pointed out that the main culprit behind the overparked state of America is a flawed minimum parking requirement. Logically, one would think that parking space for a given business or land use should be in proportion with an average number of users. However, the status quo is that minimum parking requirement is determined by surface area of the land use. This flawed practice has led to systematic overestimation of the number of parking spaces required instead of pursuing an optimal level. More insidiously, since minimum parking forces public resources to be spent on maintaining associated parking infrastructure, it surmounts to an exclusive subsidy to car-owning households. Yet, aggregated social and economic cost of excess parking space so often slips the attention of both planners and lay-citizenry. By taking parking for granted, we have failed to ask ourselves -  what is the opportunity cost of providing parking?
Professor Shoup powerfully demonstrates the cost of such failure by illustrating the connection between parking and housing affordability crisis. For instance, estimates show that a single parking space costs approximately between $24,000 - $34,000 to provide. Through minimum parking requirements, these costs are first transferred to developers and push up the construction cost. The increased cost is then transferred to the market in the form of increased real estate prices. In short, minimum parking not only reduces the land available for development, it insidiously inflates the cost of housing and other developments.
Imagine, then, just how much urban potential could be unlocked by removing minimum parking. First and foremost, as developers need less investment for development, average housing prices would fall. Then, as more land becomes available for housing and business purposes, there would be a further expansion of both housing supply and jobs. The resulting increase in urban density would increase the walkability in neighborhoods which in turn reduces the need for driving. Reduced driving will further benefit street safety and environmental standard. One could almost argue that much of the urban ills that we see today are rooted in parking.
Professor Shoup suggests three solutions to alleviate the current situation. First is the introduction of a smart parking system based on demand-based dynamic pricing. The idea is that, when more people want to park on one block, the parking price will increase for that block and when fewer people want to park on another, the parking price will decrease there. Through an IT-enabled platform, it would be possible to optimally distribute parking space availability so that each block would have at least one or two parking space free at any time. "I am a Transportation engineering student and my final project is about parking, so the lecture was really meaningful for my study," said Huang.  "The best things in the event were the visual aids in the PowerPoint; they were really helpful for me to understand what Don Shoup said. The most important thing I took from this lecture was Don Shoup's introduction to the way of managing vacant parking spot by fluctuated parking fees. It was my first time seeing this approach."
Second is the establishment of parking benefit district. The poster child for this has been Old Pasadena where the establishment of such scheme resulted in win-win for both merchants and city government. Professor Shoup further suggested that the revenues from parking benefit district could be used to subsidize transit use for the community.
Thirdly, there is a need to do away with an off-street parking requirement. "Professor Shoup's focus on MPR [Minimum Parking Requirements] is critical," commented attendee Jason Schulz, Product Manage -  Parking, Verizon Smart City Solutions.  "Everyone needs to listen to it.  MPR is going away and he has the ways to solve these age-old problems."  Professor Shoup has, to a certain extent, already been successfully adopted in many cities through adaptive reuse ordinance under which developers can convert previous office buildings to housing without having to meet new minimum parking requirements. Indeed, despite the initial skepticism that people will shun off apartments with no parking, adaptive reuse has been a huge success as it increased the housing supply while at the time preserving historic streetscape in the CBD area.
Professor Donald Shoup pictured with USC MPL Student and METRANS Student Worker Kavina Patel.
The seminar provided genuinely inspiring and constructive opportunity to see parking from a completely different perspective – not just for students but also professionals working in the field. "I'm in Parking and Transportation," added Schulz. "Verizon has a very extensive smart city portfolio including Parking. Don's opinions matter. I've been using his insights for some time. Don's ability to distill complex parking policy into relatable information nuggets is priceless," he added. "Congestion and Parking Search are opposite sides of the same coin. If we're going to solve transportation issues, we have to make sure to solve parking problems. Thanks for making Parking cool!"
As Professor Shoup continues to use his rockstar influence to spread his words, I believe that the revolution in parking will be just a matter of time.
I really enjoyed this lecture," remarked Michael Tessler, USC Master of Real Estate Development student. "Many thanks for organizing it."  I decided to attend this event because, "I read some of Don's work some time ago but was curious about his recent work and had never seen him speak in person. [It is] directly relevant to issues of real estate development, urban planning and sustainability."  It is helpful "to know there is a data-driven approach toward counteracting parking requirements!"
About the Author:
Sang-O Kim is a Master of Planning student at the University of Southern California with a concentration in Transportation. Sang-O is originally from Republic of Korea and has received B.A in Geography from King's College London and M.A in International Relations from Korea University.