Isidoro "Issy" Serna discovered his interest in urban planning at a USC Price School of Public Policy information session, and his passion for the field has only grown since then. Not only is Issy a first generation college student but he is taking it one step further; he is now pursuing the prestigious progressive degree - concurrent studies in the Bachelor in Science in Urban Studies and Planning and Masters in Urban Planning. Until recently, he did all of this while also serving as the Editor-in-chief of the METRANS Student Newsletter. Over the span of a year, each week Issy lead the production of METRANS on the Move, an informative and engaging transportation newsletter produced entirely by students under Issy's lead, with original and shared news content; numerous education and professional opportunities such as webinars, seminars, workshops, scholarships and awards; and a comprehensive job board with employment listings for entry to mid-level transportation professionals. In preparation for completing his bachelor's degree and concentrating fully on his master', Issy has turned over this role to our new Editor-in-Chief, Clark Hsu. His will be big shoes for Clark to fill.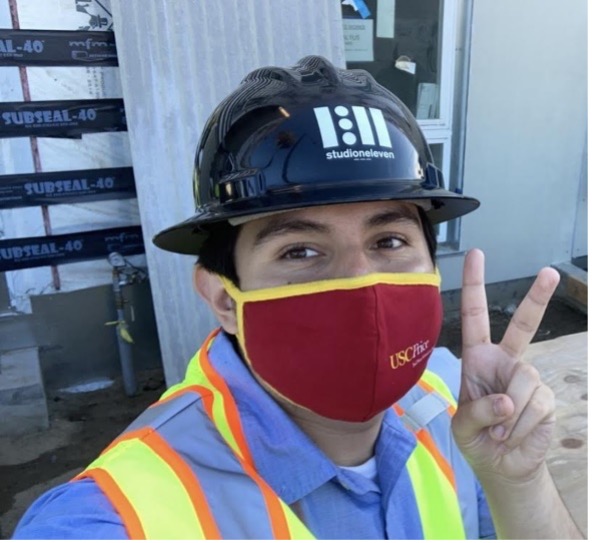 Isidoro "Issy" Serna, B.S. Urban Studies and Planning '22, USC
Issy started exploring a possible career in Urban Planning by taking the USC Price Urban Context course, taught by Dr. Lisa Schweizter. This class introduced students to the vast opportunities and concentrations available to Urban Planners. "I really enjoyed the theory and history of planning and how it is currently impacting our lives to this day," Issy recalls. After taking the course, and in his sophomore year, he formally declared his major of Urban Studies and Planning.
Issy hopes to use his fascination for transportation and transportation systems to one day serve as a Transportation Planner with a private planning firm. He hopes that his career will allow him to explore both the private and public sectors of the transportation industry, and hopes he is given the opportunity to work directly with community members and other stakeholders to ensure their needs are effectively met. "Transportation is a broad field; I'm most intrigued by its relationship with the built environment. I'm also interested in how we can use different modes of mobility, such as public transit, to address issues of inequality and accessibility for certain populations," Issy explains.
Over the past year, Issy has directed the METRANS Student Newsletter as the Student Newsletter Team Lead. "I had the opportunity of overseeing amazing student features that covered university events, shared opportunities for students to learn more about the wide topic of transportation, and showcased job opportunities for all levels of students," Issy shares.
Issy directly works under the supervision of METRANS Associate Director, Dr. Victoria Deguzman, "Dr. Deguzman is truly an exceptional mentor and inspiration for all. She introduced me to so many different opportunities and programs that were invaluable in supporting the development of my future career."
Concurrent with his studies, Issy has also assisted local Southern California businesses and collected data for the USC Center for Economic Development, an applied research center of the USC Price School of Public Policy. He has also conducted interviews with different representatives across the United States regarding housing policy and regulation for the USC Initiative to Eliminate Homelessness as an Urban Planning intern.
As an impressive and hardworking student, Issy has been honored as a National Questbridge Match Finalist. This organization helps First Generation and Low-Income students cover the costs of their college studies. Issy is also a grateful recipient of the Railway Association of Southern California Undergraduate Scholarship.
Outside of class, Issy plans creative ways to engage with the USC student body as a Community Outreach Chair. In this position, he builds and maintains relationships with surrounding neighborhoods and local organizations to offer student support, involvement, and advocacy opportunities. Issy has developed strategies to address planning-related equity and social justice issues through this role.
In his free time, Issy hopes to explore international transportation systems in countries like Spain and Japan, known for their impressive infrastructure and public transit systems. He is also excited to explore the different neighborhoods within Southern California.
"Issy such is an impressive student, and we have been so fortunate to have his leadership, creativity, and infectious enthusiasm on the METRANS Team. He will be truly missed," says Dr. Deguzman. "I am certain that he will make a valuable and lasting impact on both the Planning profession and the built environment."
We sincerely thank Issy for his incredible work as Newsletter Lead and look forward to celebrating his continued success in all he pursues!
About the Author
Namitha Nixon is an undergraduate sophomore at the University of Southern California studying the Business of Cinematic Arts and a student writer for the METRANS newsletter. Outside of classes, she serves as the VP of Career Development for the Marshall Entertainment Association and the VP of Administration for the Marshall Women's Leadership Board.